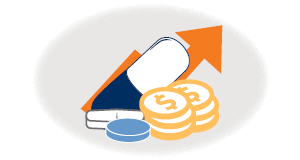 Securing Affordable Treatments for All Americans
Left unchecked, the pharmaceutical industry continues to set exorbitant drug prices and hinder competition in the marketplace. ACHP advocates for policies that promote reasonable prescription drug prices and ensure a sustainable health care system that works for patients and health plans alike. ACHP is dedicated to cracking down on anticompetitive practices, spurring development of generic and biosimilar treatments and increasing transparency around price setting.
Resource Library Search
---

ACHP spoke with Sarah Kliff about the rushed testing implementation timeline following new rules requiring at-home COVID test coverage.

When choosing a Medicare Advantage (MA) plan, there are several factors to consider. Fortunately, a lot of information – including network, pricing, performance in treating certain conditions and quality ratings – is publicly available.

Medicare Advantage (MA) serves diverse populations. In fact, MA enrolls a higher percentage of people of color than traditional Medicare.