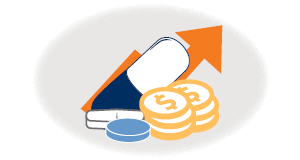 Securing Affordable Treatments for All Americans
Left unchecked, the pharmaceutical industry continues to set exorbitant drug prices and hinder competition in the marketplace. ACHP advocates for policies that promote reasonable prescription drug prices and ensure a sustainable health care system that works for patients and health plans alike. ACHP is dedicated to cracking down on anticompetitive practices, spurring development of generic and biosimilar treatments and increasing transparency around price setting.

Deep Dive
04/07/2020

ACHP's comments in response to the proposed rule on Medicare Advantage and Part D for the Contract Year 2021 and 2022.

12/17/2019

Passing the bipartisan CREATES Act is a key step in discouraging anticompetitive behavior, removing barriers to competition for generics and providing consumers relief.
Problem/Solution
PROBLEM: Current law unintentionally prevents most seniors in high-quality MA plans from receiving expanded benefits, reduced premiums and/or lower co-pays. Counties across the country are hurt by a limit known as the MA benchmark cap. It is unfair to penalize seniors based on where they live.
SOLUTION: Congress can remedy this by paying full MA quality bonuses. The Medicare Advantage Quality Payment Relief Act (S. 1114, H.R. 2131) ensures seniors enrolled in high quality MA plans receive full benefits and are not hurt by the cap. Learn more here.
Resource Library Search
---

Leaders from SelectHealth and Intermountain Healthcare explain how the public health crisis has spurred innovation in telehealth and virtual care.

Fears about the public health crisis and a damaged economy sparked significant changes in behavior that the health industry must take to heart.

Community health plans know firsthand that improving physical, mental and economic health depends on an effective network for meeting social needs.