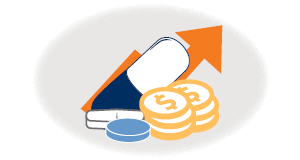 Securing Affordable Treatments for All Americans
Left unchecked, the pharmaceutical industry continues to set exorbitant drug prices and hinder competition in the marketplace. ACHP advocates for policies that promote reasonable prescription drug prices and ensure a sustainable health care system that works for patients and health plans alike. ACHP is dedicated to cracking down on anticompetitive practices, spurring development of generic and biosimilar treatments and increasing transparency around price setting.
Resource Library Search
---

If the constant price hikes of high-priced specialty drugs are left unchecked, prescription drug costs will continue to explode.
ACHP urged Congressional leaders to address vital health care issues affecting Americans across the nation in the reconciliation package.
ACHP examines how organizations are managing high-cost specialty drugs to ensure patients get the drugs they need without breaking the bank.