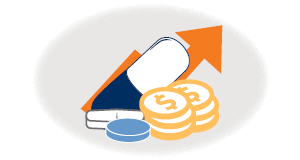 Securing Affordable Treatments for All Americans
Left unchecked, the pharmaceutical industry continues to set exorbitant drug prices and hinder competition in the marketplace. ACHP advocates for policies that promote reasonable prescription drug prices and ensure a sustainable health care system that works for patients and health plans alike. ACHP is dedicated to cracking down on anticompetitive practices, spurring development of generic and biosimilar treatments and increasing transparency around price setting.
Resource Library Search
---

ACHP backs concrete efforts by the federal government to reign in high drug costs, such as empowering Medicare negotiations. 
ACHP proposes changes to the FEHB Plan Comparison Tool to help federal employees choose the best coverage and improve the shopping experience.
ACHP and other health care industry leaders urge CMS to allow audio-only encounters to be included in Medicare Advantage risk adjustment.