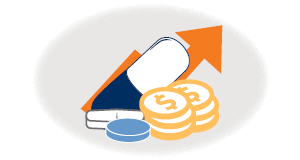 Securing Affordable Treatments for All Americans
Left unchecked, the pharmaceutical industry continues to set exorbitant drug prices and hinder competition in the marketplace. ACHP advocates for policies that promote reasonable prescription drug prices and ensure a sustainable health care system that works for patients and health plans alike. ACHP is dedicated to cracking down on anticompetitive practices, spurring development of generic and biosimilar treatments and increasing transparency around price setting.
Resource Library Search
---

ACHP supports bipartisan approaches to lowering the exorbitant cost of prescription drugs, bringing financial relief to consumers.
ACHP supports the CONNECT for Health Act, which helps ensures sustainable coverage and access to telehealth and virtual care.
Independent Health's Primary Value program is helping shift primary care providers to a model that prizes value over volume of care.