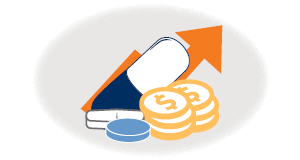 Securing Affordable Treatments for All Americans
Left unchecked, the pharmaceutical industry continues to set exorbitant drug prices and hinder competition in the marketplace. ACHP advocates for policies that promote reasonable prescription drug prices and ensure a sustainable health care system that works for patients and health plans alike. ACHP is dedicated to cracking down on anticompetitive practices, spurring development of generic and biosimilar treatments and increasing transparency around price setting.

Deep Dive
04/07/2020

ACHP's comments in response to the proposed rule on Medicare Advantage and Part D for the Contract Year 2021 and 2022.

12/17/2019

Passing the bipartisan CREATES Act is a key step in discouraging anticompetitive behavior, removing barriers to competition for generics and providing consumers relief.
Resource Library Search
---
Kaiser Permanente implemented safer opioid prescribing practices in 2012 and has greatly reduced opioid prescribing across all regions.
Clinical and health plan leaders at Geisinger Health Plan created a robust protocol for the diagnosis and treatment of hepatitis C.

As millions struggle to pay rising drug costs, biosimilars can provide relief WashingtonRead more