March 29, 2022
During the National Committee for Quality Assurance (NCQA) Quality Innovation Series, Alliance of Community Health Plans (ACHP) President and CEO Ceci Connolly spoke with fellow health care industry leaders about the benefits of telehealth and remote monitoring for high-quality coverage and care. The kick-off NCQA event explored access to care, health equity, payment parity, policy and more.
When asked about the most pleasant surprise from the past few years, Ceci noted the increased complexity of telehealth in specialty care, such as managing chronic conditions and pre- and post-operative service.
"We're thrilled by the sophistication and ingenuity of clinicians throughout this pandemic to use this technology in so many lifesaving ways… Without such a crisis, we may not have seen that many creative flowers bloomed." – ACHP President and CEO Ceci Connolly
Ceci also discussed the many ACHP plans with hospital-at-home programs, which could not have launched without their plan and provider systems working in conjunction through a capitated payment model. These Care Anywhere initiatives, supported by pandemic public health emergency waivers, have led to improved health outcomes and cost savings for consumers.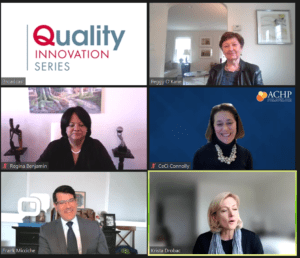 Moderator: Frank Micciche, Vice President, Public Policy & External Relations, NCQA
Panelists: