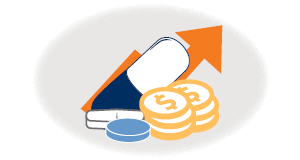 Securing Affordable Treatments for All Americans
Left unchecked, the pharmaceutical industry continues to set exorbitant drug prices and hinder competition in the marketplace. ACHP advocates for policies that promote reasonable prescription drug prices and ensure a sustainable health care system that works for patients and health plans alike. ACHP is dedicated to cracking down on anticompetitive practices, spurring development of generic and biosimilar treatments and increasing transparency around price setting.
Resource Library Search
---
ACHP supports Medicare Advantage policies that prioritize the health of seniors and strengthen the program.
ACHP's response to the 2022 Physician Fee Schedule urges CMS to expand telehealth and reaffirms ACHP's commitment to health equity.

ACHP and other health care organizations in and around Washington, D.C. are mandating COVID-19 vaccines a condition of returning to offices.