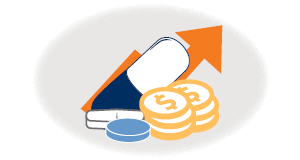 Securing Affordable Treatments for All Americans
Left unchecked, the pharmaceutical industry continues to set exorbitant drug prices and hinder competition in the marketplace. ACHP advocates for policies that promote reasonable prescription drug prices and ensure a sustainable health care system that works for patients and health plans alike. ACHP is dedicated to cracking down on anticompetitive practices, spurring development of generic and biosimilar treatments and increasing transparency around price setting.
Resource Library Search
---
ACHP is asking CMS to grant flexibility on meeting deadlines for implementing new health data exchange requirements.

Nonprofit health plans such as Independent Health are making front-end investments to help primary care providers shift to value-based models.
ACHP calls for an overhaul of the FEHB plan comparison tool in order to enhance the plan shopping experience for federal employees.