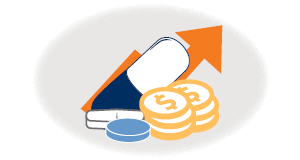 Securing Affordable Treatments for All Americans
Left unchecked, the pharmaceutical industry continues to set exorbitant drug prices and hinder competition in the marketplace. ACHP advocates for policies that promote reasonable prescription drug prices and ensure a sustainable health care system that works for patients and health plans alike. ACHP is dedicated to cracking down on anticompetitive practices, spurring development of generic and biosimilar treatments and increasing transparency around price setting.
Resource Library Search
---
ACHP and its member companies are doubling down on their support for the White House's COVID-19 vaccination efforts nationwide.

The federal government can leverage changes to the Federal Employee Health Benefits (FEHB) Program to attract and retain top talent.
ACHP is grateful that the Court has fully upheld the Affordable Care Act (ACA), which has expanded coverage and care across America.